YOU MOVE ME MOVING CHECKLIST
PRINTABLE MOVING CHECKLIST
Stay organized leading up to your move with our essential moving checklist. It's filled with helpful tips and timelines to get you organized.
MOVING CHECKLIST COVERING THE BASICS
When you're moving, you want to plan ahead as much as possible. It's best to break it down into stages to make it seem less overwhelming. Here's a preview of the most important tasks to tackle and when to do them:
WEEKS BEFORE THE MOVE
Get rid of everything you don't want moved — consider booking junk removal service to make it fast and easy.
Book elevators and make arrangements to save a parking spot for the truck in front of both locations for up to 4 hours.
Make a list of people and businesses to notify about your new address.
Get PACKING SUPPLIES — BOXES, TAPE, PAPER / BUBBLE WRAP for delicate items.
Get insurance for your items. High-value items will need verified values in advance of a move.
Label items right on the box as you pack, including which room they go in.
Check all furniture and note any scratches or dents.
Book a moving company!
1 WEEK BEFORE THE MOVE
Take down and pack all pictures and hanging items.
Make sure all loose items and electronics are packed.
Remove all fragile items from dressers and desks.
Clean out and pack the bathrooms — you'll need these items right away at the new place.
Pack a bag with a change of clothes and toiletries to keep with you for the first night.
DAY OF THE MOVE
Remove blankets and linens from beds and pack them up.
Ensure all items are removed from appliances.
After the truck is loaded up, do a final walkthrough to check all rooms, closets, and cabinets for any missed items.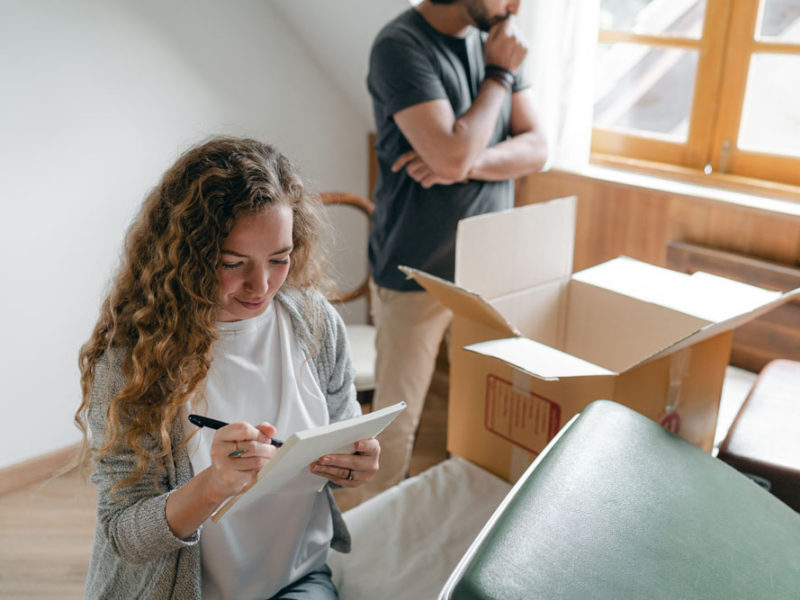 MOVING CHECKLIST & TIPS FOR MOVING
STAY ORGANIZED WITH OUR MOVING CHECKLIST
Whether you're just moving across the street or across the country, there are lots of things to keep track of when you're relocating your life. This checklist provides smart moving tips to help you stay focused and in control.
8 WEEKS BEFORE MOVING DAY
Create your "Move File" in Google Drive to keep track of all quotes, receipts, and other important information.
Schedule your container to arrive on a date that gives you plenty of time to load all your belongings. You may want it a few days, weeks, or even a month before your move date. You can keep your container as long as you need, so you can pack and load at your own pace, on your schedule.
Want help with packing or loading? Start collecting quotes. We're happy to refer you to trusted local labor providers.
Shipping a vehicle? Start getting quotes. We can help connect you to a reputable vehicle shipper.
Contact the local Chamber of Commerce if you're moving to a new city and request a new resident packet.
Begin researching your new hometown or neighborhood online.
Create a floor plan of your new home for furniture and appliance placement.
Schedule repairs with carpenters, painters, plumbers, roofers, and others so your new home is ready for you.
Inventory your stuff and clear clutter. Start with the attic, basement, garage, and other storage areas.
Decide what to sell or give away and what to keep. Prepare for the garage sale you'll hold 3 weeks before your move or start selling items online.
Check on potential tax deductions for your move with your accountant or the IRS.
Gather important documents: Keep personal and family records including medical, dental, vet and school records; legal, financial, and insurance documents, birth certificates, and passports with you instead of packing them away.
Confirm you have enough space for delivery of your container. Allow for a clearance of 12 feet wide, 15 feet high, and 40 feet long. Paved surfaces are preferred. If the surface isn't paved, discuss your situation with a representative.
Ask your homeowner association, apartment or condo management if there are any restrictions regarding placement of portable containers or rental trucks at or near your residence.
Check laws and permit requirements for street placement if you're planning to place your container on the street. If a permit is required, our driver won't be able to drop off the container without it. In most cases
Complete the required Gypsy Moth Form if you're moving from a gypsy moth quarantine state, especially if you're moving
Research schools in your new neighborhood.
6 WEEKS BEFORE MOVING DAY
Order supplies to protect your items from damage during transportation. You can get boxes, tape, locks, and other supplies
Change banks if your current bank doesn't have branches in your new community.
Get referrals from your doctor and other health care providers.
Have valuables appraised such as antiques, pieces of art, musical instruments, and other items. As we don't recommend storing valuables in your containers, start making arrangements for their transport to your new home.
4 WEEKS BEFORE MOVING DAY
Start organizing and packing your belongings. Label all boxes as you pack to make unpacking easier. If you determine you need additional containers for your move, call us and let us know so we can deliver what you need.
Clean as you pack to help with getting your full deposit back if you're renting. This will save time as moving day approaches. Don't forget neglected areas such as vents and behind appliances.
Confirm with your insurance company that your possessions are covered during transit. Sign up for PODS' Contents Protection Option if needed.
Schedule utility services at your new home, including electricity, water, sewage, cable, Internet, and waste disposal.
Schedule disconnection of utilities at your old home. Don't forget to disconnect the day after you move and connect the day before you arrive at your new home. If you have any "final month" deposits be sure to request your refund.
File a change of address with the U.S. Postal Service and pick up the USPS Mover's Guide at your local post office.
Purchase locks for your new home or arrange to have them installed upon moving in
Arrange for cleaning and repairs if needed at your old home.
Make travel plans if needed for your move.
Begin using up frozen foods and cleaning supplies that can't be moved.
Make a list of friends, relatives, and businesses to notify.
3 WEEKS BEFORE MOVING DAY
Hold a garage sale or sell items online through websites such as eBay or Letgo. Donate leftover items to charities.
Properly dispose of items that you can't move or throw out, such as chemicals, pesticides, flammable liquids, and batteries.
Cancel your newspaper delivery service.
Change the address of your magazine subscriptions.
The Relocation Guide
lots of companies open their office here. It can be different if you are an ex-pat who chooses to reside here. You will have to consider several substantial terms of living here. From the cultures, living costs, people, foods, rules, and legal documents need to be prepared.
You can see it from the people, the varieties of foods, the entertainments, etc. Therefore, you will certainly meet lots of ethnic living in this city from local people
This legal document is highly needed. Choose according to your purpose. There are several types such as tourists, business travelers, and expatriates. Truthfully, it is considered strict to get a work permit or visa
Language
Even if you travel to another country, it is always better to learn their basic language not only as knowledge but also survival skills.
Cultures
Most Asian country still holds its conservative values that are unspoken. For example, when you first meet new people it starts with handshakes. In terms of clothes, make sure you wear something that is not too revealing. Since the weather is hot and humid, cotton-based and comfortable clothes are recommended.
Choose Place to Live
When you move here you don't want to stay homeless upon arrival. Plan and book first. There are various options for life here. From kost, apartment, or house. The term of co-living is started to quite common here. It helps you so much if you happen to be an ex-pat.
Moving Guides
understand that moving your home can often be a stressful time for you and your family. We have developed our moving process to ensure that your move happens quickly, carefully, and hassle-free. We are also proud to provide customer service that is second to none.
experienced movers know that memories are often tied up in household possessions, and that's why we make it a priority to be extra cautious when transporting your treasured belongings. We utilize state-of-the-art moving techniques to make sure that your goods are always safely stowed and ready to travel to your new home, no matter the distance that you're going.
crews are experts at handling your antiques, your china and other fragile items, such as electronics. You can rest assured that we always treat every box and piece of furniture as if it were our own.
belief that moving should be an exciting time full of new opportunities, and that's why we make it our goal to assure that your experience is pleasant and eliminated of the burdens that a lot of individuals and families face. We have many solutions to fit your specific residential moving needs and will go over the best way to prepare for our arrival on moving day.
THE COMPLETE GUIDE TO HIRING LOCAL MOVERS
Moving is an exciting feat- whether you're moving to a new town or a completely different state. But you shouldn't take on the process by yourself because this can lead to stress or injury. Hiring local movers will make the actual activity of moving much easier for you and your family! But how do you find a company that you can trust with your items that won't rip you off? Follow these tips as you decide which local movers to hire.
Find Recommendations
As you begin your search for local movers, the first thing you should do is find a company that you can trust. How do you do this? Ask around! Find out what movers your friends, family, coworkers, or neighbors have used in the past. They can tell you pros and cons of the movers they hired, which can help you decide if they'll be the right fit for you.
Check online reviews whether through Google or on the moving company's website. This will show you all the good and bad sides of the movers. Consider it a bonus if the company has replied to both negative and positive reviews. This shows that they care about their customers and making sure they're satisfied, any issues are resolved, or simply to thank customers for leaving a positive comment.
Research
In order for a moving company to help you move all of your belongings, they should be both licensed and insured. They should have the proper state requirements to be able to move everything whether by a truck or a van. They should also provide insurance or liability as this is required by federal law. You can check the Better Business Bureau to ensure that the company you are looking at is legitimate and reliable.
As you research, be sure to keep note of a few different moving companies. Note all of their benefits or red flags and get full estimates from each one. This allows you to then compare costs and what is offered, so that you can make the most informed decision about which one to choose when it's time for you to move.