How to Choose the Right Kitchen Sink
Few features in the home are used as often as the kitchen sink. And what other home item performs as many different tasks? It could be argued that the selection of a sink is one of the most important kitchen choices you will make — and it's a decision that will affect your daily life for many years to come. We spoke to designers who belong to the National Kitchen and Bath Association (NKBA) about how to select the right sink for your kitchen.
A certified Master Kitchen and Bath Designer for 30 years, Sharon Flatley has seen the kitchen sink grow wider, deeper and more diverse. "There's so much more to choose from now," she says.
These days Flatley, the principal of Flatley & Associates in Dallas, says most of her clients opt for a kitchen sink with a single, deep basin that is 33 to 36 inches wide and 8 to 10 inches deep. "This kind of sink is very versatile," she says. "It works whether you cook a lot or not much."
Two basins in your kitchen sink allow you to perform separate tasks, such as cleaning dishes and preparing food, with ease. A 60/40 kitchen sink has one basin that is usually about 18 inches wide and another that is 14 inches wide. The idea is that you can clean up in the large basin and prep in the smaller one. Dual basins also come in handy when you are washing items you don't want to put in the dishwasher (soap in one basin, rinse water in the other).
Farmhouse sink.
Pros: Many farmhouse sinks are simply single, large basins. The difference is their distinctive apron front, which has a vintage vibe many homeowners love. For a typical sink, the basin can be 4 inches away from the edge of the countertop, but this sink can sit a bit beyond the counter line. For people of shorter stature and kids, a farmhouse sink can be more accessible. If you choose a porcelain or ceramic farmhouse sink, there are a wealth of color options.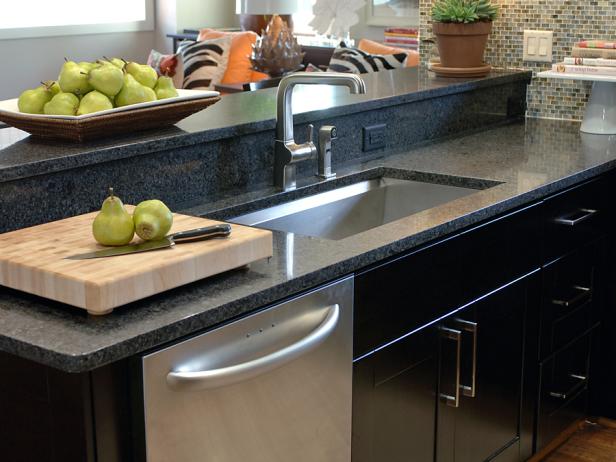 Choosing the Right Kitchen Sink and Faucet
Sink Options
Kitchen sinks are typically made from stainless steel, enamel-coated cast iron, solid surfaces and composites. For clients who choose solid surface counters like granite or engineered stone, Isley recommends a stainless steel sink because of its undermount capability. Also if homeowners tend to be hard on sinks (Isley asks clients if they're prone to throwing things into their sink), stainless is often the best choice. When shopping for a sink, keep in mind that lower-gauge stainless steel makes for a better quality sink. Some people find stainless steel sinks noisy, but that's a problem that can be addressed by choosing a design featuring sound-absorption technology.
Once the standard in kitchen sinks, enamel-coated cast iron still has a place in today's kitchen. "They're probably the prettiest of all the sinks on the market today," Isley says. However, he cautions that enamel can scratch and wear over time, which may not make this sink the best choice for people who are tough on sinks
Number of Sinks
Traditionally, most kitchens feature a double-bowl sink. "Obviously, double bowls — especially two equal size bowls — were made for washing dishes. We really don't wash dishes much in the kitchen," Isley says.
Faucets that Function
With the great number of faucets on the market, there is a design for everyone. "Style is strictly a personal taste issue," Isley says. He doesn't dictate what clients choose design-wise — people like what they like, after all — but he does guide them when it comes to function and finishes. Most faucets use cartridge, ball or ceramic disc valves. A faucet with a ceramic disk valve and solid brass base materials will be the most durable. Though many attractive faucets have two handles, Isley always pushes for single-lever faucets in the kitchen. He also suggests clients include a spray arm for filling pots with water or rinsing the sink, whether it's part of the spout or a separate piece. Consider other convenient extras, like a garbage disposal and hot water dispenser.
Isley steers clients away from brass finishes. "[Brass] works well for a low-use area, but in a high-use area like a kitchen, I'd rather use chrome, polished nickel, brushed nickel or pewter. The new bronze finish is also very popular," he says.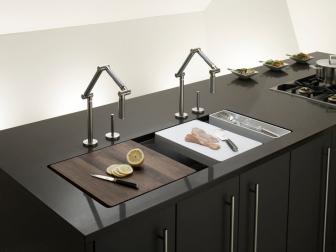 How to Choose a Kitchen Sink, According to Science
This includes the type, size, number of bowls, material, faucet fitting, and more. If you're remodeling your kitchen from scratch, choosing a customized kitchen sink is more apt. Something that fits well with the ambience and color palette of the kitchen décor.
Choosing a new kitchen sink, as a homeowner, doesn't have to be a price-based decision. You can easily narrow down your options based on the different styles and sizes of kitchen sinks. This guide will help you learn about the basics of kitchen sink and what makes it do functional and versatile in your home.
Looking At Different Sink Types
This is the simplest rundown for the common kitchen sinks types available on the market. You can opt for either on while modelling your kitchen or during renovating. Each kitchen sink type has its pros and cons, so it's best to read through them all to find your most ideal fit.
Top Mount (Drop-In)
As the name suggests, a top mount kitchen sink looks like it has been dropped-in from above. It fits comfortably on the kitchen platform with a rim or lip that holds it in place from the edge. This is probably one of the neatest kitchen sinks, requiring minimal installation and service
Undermount
The installation of an undermount sink is completely reversed to that of a top mount sink. While a top mount sink is dropped in from above, an undermount sink is fitted from below the kitchen counter. The lips of the sink are in level with the kitchen counter, which makes it look sleeker and polished.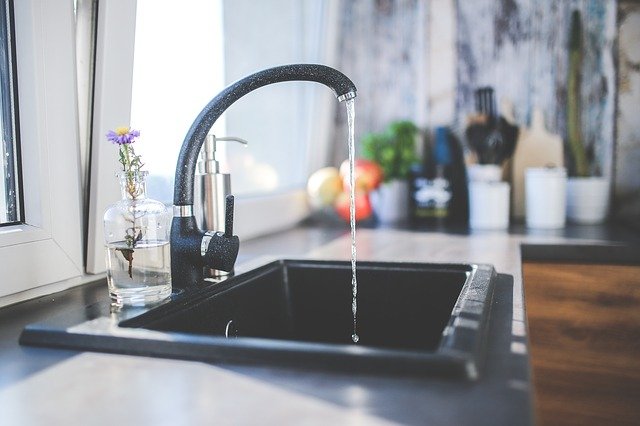 How to Choose a Kitchen Sink
Your kitchen sink is probably not the place where you'd choose to spend your time, but it's a necessity—and having the right one can make all those minutes spent scrubbing and rinsing easier and more efficient. Learn about the different materials, types of sinks, and factors to consider as you discover how to select a kitchen sink that fits your needs.
Types of Kitchen Sinks: Materials
Kitchen sinks come in many different materials, including metal and stone. The best kitchen sink material for you depends on how much money you want to spend, your cleaning routine preferences, and what material goes best with your kitchen's style
Stainless-steel kitchen sinks are one of the most popular options and the material continues to be improved and upgraded. The newer 16- and 18-gauge sinks are thicker and less noisy than their less-expensive predecessors. Stainless-steel sinks contain a percentage of chromium and nickel, which is indicated by numbers such as 18/10 (18 percent chromium and 10 percent nickel). The metal imparts a rich glow and adds corrosion resistance. Finishes range from a mirrorlike shine to a satin luster. Stainless-steel kitchen sinks are appealing because they are affordable, durable, and easy to clean. However, they can become scratched and water spots can become an issue, and the cheaper sinks can sometimes make more noise when items are dropped in
Cast-iron kitchen sinks are made from a sturdy material that is enamel fired on an iron form. These durable sinks lessen noise and vibration more than other materials but can be heavy for installation. An added advantage is that cast-iron sinks are available in a wide range of colors.
Composite sinks can be made of quartz, granite, or other materials mixed with an acrylic- or polyester-resin base. They usually feature speckled color, resistance to stains and scratches, and easy care. However, they can be expensive.
How to Choose the Right Kitchen Sink
Our kitchens are constantly being used and the sink is the first thing that will get worn-out. Naturally, it's easy to get overwhelmed by all the choices. Whether you're remodeling or just getting a sink as a new homeowner, here's how you can narrow down your choices from all the styles and types.
Under Mount
The key behind choosing the right kitchen sink is to evaluate your space and personal needs based on the three main types of sinks. An undermounted sink is installed below a countertop so that the sink drops down. The obvious advantage with this type of sink is that you can wipe a surface down straight into the sink. The under mounted sink is compatible with solid surface countertop materials like granite, soapstone, marble, or concrete with a wide array of durable sinks. Unfortunately, other materials such as laminate or tile counters are not stable enough to support the strength of the sink.
Top Mount or Drop In
Top Mount or Drop In sinks are installed in a hole in your countertop. There is no need for interior support. However, these kinds of sinks are usually very hard to clean.
Cost -Effective Materials
Every sink gets wear and tear, but some sinks get worn down more than others. Keep in mind that stainless steel sinks hold up better than enamel-coated cast iron sinks which often show scratches and signs of wear over time. Granite countertops work well with stainless steel sinks. Although stainless steel sinks can be noisy, homeowners can choose sound-absorption technology to reduce the amount of noise
Number of Bowls
Knowing your space limitations will determine size and depth which in turn, will determine the number of bowls or basins. Traditionally, most kitchens feature a double-bowl sink, but a single bowl sink might be ideal for smaller kitchens giving a more functional look.