What to Know Before meeting with a builder?
You've likely heard the cliché "new year, new you" more than a few times already this year. But what about your living arrangements? As people flock to gyms striving to get in shape and sign up to diet plans with the intent of eating better in 2019, it's important to realize that where you live plays a major role in your overall well-being.
Psychologists assert that how you view your living space (and how comfortable you are in your home and neighborhood) makes a powerful impact on emotional and mental health. That's why it's essential to find accommodations that match your unique desires and requirements, and complement your values and ambitions.
Thankfully, there's a simple and straight-forward way to accomplish all of those goals this year. Read on to discover how building a new custom home could be a life-changing experience, and how you can get started with the process today.
Know Your Wants and Needs
Maybe you've always wanted a flex room/multi-purpose space where you can exercise, accommodate guests, work or study, and accomplish all the tasks you've set out for yourself. Perhaps you're never more at home than when you're cooking or baking up a storm in the kitchen. Or, you might seek a relaxing outdoor space where you can unwind after a long day, and reconnect with nature.
Bring all your "must haves" to a meeting with your home builder. This sets the stage for what will eventually become the high-quality custom home you've always dreamed about.
Collect Documentation
It's a good idea to have at least a basic framework of long-term plans for your custom home, including financial considerations. In addition, any other material you can provide helps your custom home builders get on the same page with the vision for your future residence. So, those interesting Pinterest items you've been browsing (along with other images and ideas) are certainly relevant during this stage.
In addition, if you have floorplans you've been considering or other essential inclusions for your custom home, this is an ideal moment to bring up and present your thoughts and ideas.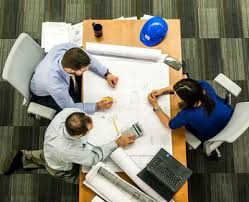 Prepare Your Questions
As you perform research, it's wise to think of specific questions for your home builder. Don't be afraid or hesitant to present these topics or share your concepts. This is the only way to ensure that everyone is on the same page, and shares a unified vision for your custom home.
Popular questions include:
How long have you been in business? How many homes have you built during that time?
How are you different from other builders? Have you won awards or received major accolades? Do you have customer testimonials?
Who will oversee my custom home construction? Who is the point of contact?
You'll likely have your own specific questions to ask. It will also be helpful if you can provide answers and personal preference details to your builder. That includes information concerning:
what you most like/dislike about your current residence
desired rooms and living space
preferred activities and "must haves"
budget, timeframe, and other details
building/design preferences (green elements, energy-efficiency)
Any information or insight you can provide during the first meeting with your builder will help ensure the accuracy and efficiency of your custom home building project.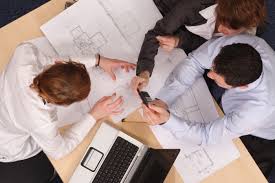 What to expect:
It's one thing to plan your home from the comfort of your computer, poring over an endless stream of Pinterest boards, blog posts, and spreadsheets. But the day inevitably comes when it's time to prepare for your first face-to-face meeting with a homebuilder. Obviously, everyone wants to feel prepared for their first homebuilding consultation. It's natural to want to start off on the right foot. By now you probably have a pretty good idea of who you want to work with. You've done your homework and settled on a homebuilder that checks all your boxes and has already demonstrated they're easy to work with.
It's time to take action and schedule your initial consultation. Here's what you need to know.
GOALS OF YOUR FIRST MEETING?
Typically, what are the goals of your first in-person consultation with a homebuilder? Well, that depends entirely on how far along you are, but the main goal should simply be to establish what you want. Typically, there are two distinct scenarios that play out in our office, based on whether or not a customer arrives with house plans in hand.
SCENARIO 1: "I HAVE MY PLANS!"
Great, this means we can jump right into discussions of finishes, materials, and costs. In order to put together an initial estimate, we'll begin nailing down details such as …
Exterior Finishes: Do you prefer brick, stone, vinyl?
Foundation-Type: Will we be building your home on top of a basement, crawlspace, or slab?
Interior Finishes: We'll want to determine a laundry-list of interior selections including cabinet-types, floor-coverings, lighting and plumbing fixtures, window and door designs, fireplaces, and trim packages.
Homebuilding Extras: Will you be expanding on your home's footprint with the addition of decks, porches, and/or patios?
SCENARIO 2: "I DON'T HAVE MY PLANS."
Don't worry, most of our customers come to us with a general idea of what they want, but most look to us to help them choose and refine a design that fits their needs. If this is the case, expect your homebuilder to start asking questions — lots and lots of questions.
What size home do you need? How much livable square-footage?
How many baths, bedrooms?
Can we find an existing plan that fits your needs?
What home layouts fit your style and plans?
What's your budget?
Within your budget, which trim-packages do you like?
Do you need purpose-specific rooms?
Will you build on a slab, basement, or crawlspace?
The list goes on.
In this scenario, there might be two or three meetings prior to building out a quote, depending on whether or not your builder has a plan that perfectly fits your needs.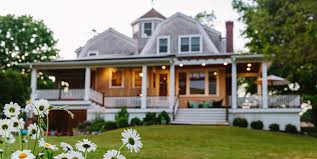 Things to bring when meeting with your builder
Your first meeting with your home builder can be a little intimidating, especially if, like most people, this is your first time building a home. You know this is the person you want to build your home, but how does that process start, and how can you be sure you'll be getting exactly the home you want? It all starts with that first meeting. It's a good idea to put a little prep work in before you get to the meeting, so you know what you're looking for, and you can tell your builder your vision. To make it a little easier on you, here's a list of 5 things you should bring with you to that initial meeting with your builder:
Your budget
The first thing any builder is going to want to know is how much you'll be spending. It's important to have your budget all figured out before you even go into that meeting. You and your builder both will make all future decisions based on the budget you're working with, so it's important that you know exactly how much you can spend by the time you meet your builder.
Potential floorplans
If you have ideas about potential floorplans, or if you found your ideal floorplan online, definitely bring it to that first meeting. This will help give your builder a better idea of what you're looking for, and they'll be able to tell you if the floorplan you want will fit into the budget you have. Additionally, if you have pictures representing the type of exterior architecture you'd like to incorporate into your new home, it's a good idea to bring those in too. The more information you have for your builder, the easier it will be for them to give you an estimate on the home you want.
Likes and dislikes about your current home
Since you're not a builder, it can be difficult to put into words exactly what you're looking for. That's where the list comes in. When you write down all of the things you don't like about your current home, along with the things you love, it gives your builder room to come up with a few different solutions to fit your needs. From there, you can pick the option you like the most, and that best fits into your budget.
A point of contact
It's really important that you designate one person to be the builder's first point of contact. Just as you'd like one person to ask any questions that you might think of, it's helpful to your builder to have a go-to person to call with their questions. Typically, this is the person that knows everything about the type of floorplan you want, the fixtures you like, and the type of wood flooring you're looking for. This definitely doesn't mean you can't consult your spouse on decisions, it's just that having one number to call makes your builder's job a lot easier, and it makes the process go a little quicker.
Relevant paperwork
Finally, you should bring any relevant paperwork with you to your initial meeting with your builder. This includes things like sketches, pictures, and county records of the lot you've purchased or intend to build on. If you've been pre-approved for a loan, it's a good idea to bring a copy of that with you as well. This shows your builder that you're serious about the project, and affirms the budget you're working with.