How to Choose the right electrical wire?
Whenever you shop for electrical wire, you will see that there are numbers of types and sizes from which you have to choose from. So different types of wire are made for different uses, but with any of these wire types knowing the right wire sizes or gauge, is key to making the right choices. Wire gauge refers to the physical size of the wire, rated with numerical designation that runs opposite to the diameter of the conductors . In other words, the smaller the wire gauge number, the larger the wire diameter.
Stranded vs. Solid Wire
One more thing to keep in mind is to select the style of wire that best fits your needs. Some wire is stranded, while other wire consists of a solid copper conductor. In installations using metal conduit, the solid wire doesn't always pull as easily if the conduit has a large number of bends. But solid wire is usually easier to secure under screw terminals, such as those found on standard switches and receptacles.
Why wire gauge is important?
Incase of overloading wire and overheating them, circuit breakers or fuses gives good protection but they are not much reliable and not a foolproof protection. Both circuit breakers and fuse are designed to sense current loads to "trip" or "blow" before the wires can overheat up to the danger point.
There is the potential for danger anytime a device or appliance tries to draw more power on a circuit than the wire gauge is rated for. For example, plugging a heater rated for 22 amps into a 16-amp circuit wired with 1.50 sq. mm wire poses a distinct danger.
Differently it will be very safe by plugging appliances with moderate electric load into circuit with heavier gauge and a higher amperage rating. So, for example, running a laptop computer with a very small amperage demand on a 22-amp circuit wired with 2.50 sq. mm wire is perfectly fine.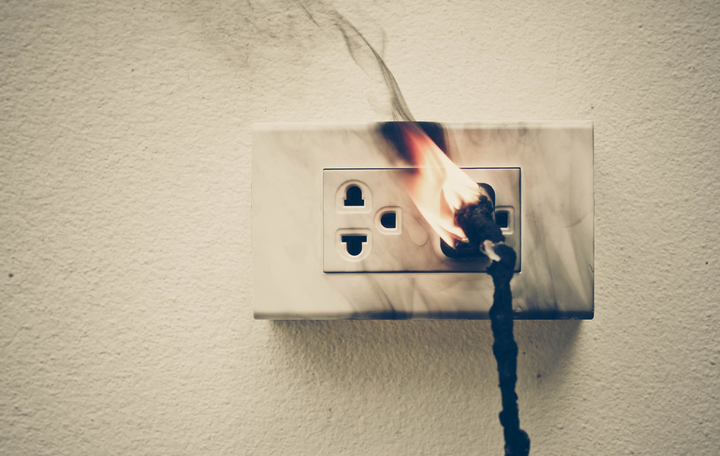 How to Find The Suitable Size of Cable & Wire for Electrical Wiring Installation?
Whenever current flows through a conductor, a voltage drop occurs in that conductor. Generally, voltage drop may neglect for small length of conductors but in case of a lower diameter and long length conductors, we have to take into account the considerable voltage drops for proper wiring installation and future load managment.
In electrical wiring circuits, voltage drops also occur from the distribution board to the different sub circuit and final sub circuits, but for sub circuits and final sub circuits, the value of voltage drop should be half of that allowable voltage drops (i.e. 2.75V of 5.5V as calculated above)
we will follow both methods and system for finding voltage drops (in meter and 100 feet) in our solved example for whole electrical installation wiring).
How to Determine the Proper Cable & Wire Size for Given Load?
Below are solved examples showing how to find the proper Cable Size for Given Load. For a given load, cable size may be found with the help of different tables but we should keep in mind and follow the rules about voltage drop.
Solved Examples of Proper Wire & Cable Size
Following are the examples of determining the proper Size of cables for electrical wiring installation which will make it easy to understand the method of "how to determine the proper size of cable for a given load".

Wire Types and Sizing
When wiring a house, there are many types wire to choose from, some copper, others aluminum, some rated for outdoors, others indoors. In general however, there are only a couple varieties used for wiring a residential home.
Romex Cables
Romex (shown in yellow above) is the trade name for a type of electrical conductor with non-metallic sheathing that is commonly used as residential branch wiring. In fact, Romex will be the most common cable you'll use in wiring a house.
The following are a few basic facts about Romex wiring:
Romex ™ is a common type of residential wiring that is categorized by the National Electrical Code (NEC) as underground feeder (UF) or non-metallic sheathed cable (NM and NMC).
NM and NMC conductors are composed of two or more insulated conductors contained in a non-metallic sheath. The coating on NMC cable is non-conducting, flame-resistant and moisture-resistant. Unlike other cables commonly found in homes, they are permitted in damp environments, such as basements.
Underground feeder conductors appear similar to NM and NMC cables except that UF cables contain a solid plastic core and cannot be "rolled" between fingers.
The following NEC regulations apply to Romex conductors:
They must be protected, secured and clamped to device boxes, junction boxes and fixtures.
Support devices that may damage the cables, such as bent nails and overdriven staples, are not permitted.
NM and NMC cables should be secured at intervals that do not exceed 4½ feet, and they should be secured within 12 inches of junction boxes and panels to which they are attached. Cables that do not comply with this rule can sag and are vulnerable to damage.
They are intended as permanent wiring in homes and should not be used as a substitute for appliance wiring or extension cords.
Romex is used for most lighting and outlet circuits in your home. Romex will be labeled with "12-2" or "12-3". The first number indicates the gauge of the wire. You choices are typically 10, 12, or 14 gauge. The second number indicates the number of conductors. A 12-2 Romex will have a black(hot) and a white(neutral) wire as well as an unsheathed copper wire for ground. A 12-3 Romex will have a black(hot), red(hot), white(neutral), and bare copper. The red on a 12-3 is used for three-way light switches which are covered later.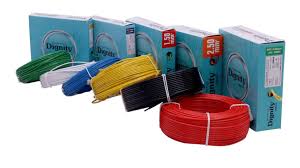 Tips for electrical wiring
Power Tests
Always check & test wires and devices for power inside the box you are working in to prevent electric shock before working on them. Sometimes, even if you shut off power, some wiring may be connected to another circuit & hence may still pose a threat of electric shock.
Uncoil Cable
The best way to easily instal cables is to straighten them out first. Pull the cable from the centre of the coil & lift a handful of coils. Next step is to toss them across the floor as if you're throwing a coiled rope. Once untangled, it helps in easier handling & neater storage
Amperage Rating
Amperage Rating or Amp needs to be checked for all electrical wiring & devices. Before installing or changing wiring, one must have the appropriate amp rating for all circuits. For example, a 30-amp circuit must have a right-gauge wiring to prevent fire hazard.
Grounding Wires
Grounding provides a safe path for extra electric current to pass in case of a fault or any other issue. Follow the manufacturer's wiring diagrams & understand grounding systems.
Boxes & Clamps
You need to ensure enclosing all wiring connections in appropriate electrical boxes or clamps. Enclosures protect the connection as well as the people from accidental contacts with those connections.
QUICK TIPS FOR SELECTING THE RIGHT ELECTRICAL WIRE & CABLE | TPC
Can you think of at least one area where you're replacing electrical wires and cables often? What happens when this cable fails? Unplanned downtime? You're too busy for that. Why is it failing? Is there a lot of flexing or tension on this particular wire? Is the area known to occasional, or frequent impact? Does your cable come into contact with chemicals or exposure to extreme temperatures?
When choosing the right cable for your problem area, you must first ask yourself why the cable is failing and how often it disrupts production? If your answer is often, it's time to look for a longer-lasting product. As experts in the industry, we can help you find the right solution for your failing cable
tips to consider when choosing the right electrical wires and cables with the most life and reliability for your needs:
If the area you have in mind is experiencing frequent flexing or tension, you'll want a cable that is finely stranded and has a high durometer like our Trex-Onics C-Flex product.
If you're looking for a cable that might need to be protected from impact, like getting hit or run over, you'll want to consider a cable with a thick, reinforced jacket. Our Super-Trex portable cord is lined with 100% fabric serve. Don't like yellow? They come in black, too.
Do you have harsh chemicals in your plant? You'll likely want to explore our Chem-Gard 200 TC Rated cable, solution with a specially compounded fluoropolymer jacket and conductor insulation.
If you have extreme temperatures — hot or cold, you'll want to visit our Thermo-Trex 850, a high-temperature electrical wire for your environment.