How to Kill Termites With Common Household Products
Termites are pesky insects that can do major damage to your home if they are not stopped. Pest-control services use highly toxic chemicals to eradicate termites from your home and yard. If you suspect you may have a termite problem, you can get a head start and kill them with common household products while you wait for your fumigation appointment.
Step 1
Pour laundry bleach onto any termite colonies that you observe in your yard's mulched areas. The toxicity of the bleach will kill any termites that come in contact with the liquid. Wear rubber gloves and safety goggles to protect yourself from the harsh chemicals.
Step 2
Fill a quart-sized container (a plastic bucket or glass jar works well) with table salt. Slowly add enough warm water to dissolve the salt. Either pour the mixture over the areas where you have seen termites, or use a kitchen baster filled with the liquid to flood termite galleries in your yard. Galleries are tunnels or channels that the termites have created. The saltwater will flood the galleries to drown the insects and kill them with the high sodium content.
Step 3
Kill termites with the common household lubricant WD-40. The oil sticks to the pests and essentially suffocates them. Use the straw applicator to pump the oil into termite galleries.
Step 4
Disable some of the visible termites with a spray insecticide. This method may not actually kill the termites, but will stun them and slow down their movements enough so you can get some professional help.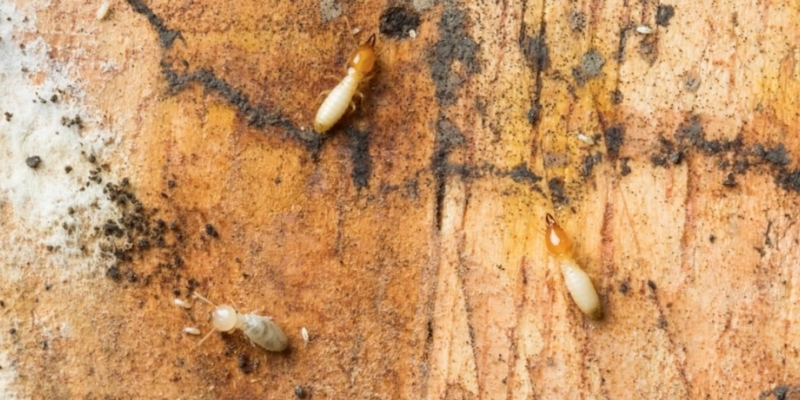 Common signs of termite damage to a wall include:
Holes and cavities within walls can indicate the presence of termites. Walls are particularly susceptible to termite damage for a number of reasons: they are accessible from the ground, and their surface area is considerable.
Small pin holes, where termites have eaten through the paper coating on drywall and/or wallpaper. You may see dirt in a hole made by subterranean termites. Drywood termites do not leave soil behind.
Faint 'lines' on drywall. (As termites tunnel through the paperboard on drywall, you may be able to see a map of their tunnels from the outside of the wall.)
A hollow sound when you tap on the wall.
Bubbling or peeling paint.
Baseboards that crumble under slight pressure.
Jammed doors or windows. (If termites damage structural components, the house can settle or shift in a way that affects the operation of doors and windows.)
Termites can remain hidden within walls and floors, so it may be difficult to discover their presence. Periodic professional inspections can help detect activity before the termites have time to cause significant damage.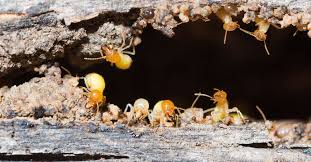 When are termites most active?
Termites swarm in the warm days following rain and are also attracted to warm buildings in the winter. The spring is an especially active time for termites because it is when they mate and form new colonies. However, different termites are more active at different times of the day or year:
Subterranean termite species swarms:
February – May in the morning
March – June during the day
Fall mornings
Drywood termite species swarms:
Spring nights
April – July at night
Summer days
Formosan termites Late spring nights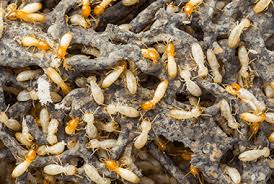 The Differences Between Ants And Termites
A common mistake people make is confusing termites with white ants. This misconception is an easy one to make as ants and termites are very similar in both shape, size and in some cases behavior.
So what are the differences between ants and termites?
Termites are light in color. They are usually a white/creamy color and can sometimes look quite translucent.
Compared to ants termites antennae are completely straight rather than bent.
The waist section of a termite is a lot thicker than that of an ants. The section where the thorax meets the abdomen is very narrow on an ant, whereas on a termite this section is quite large.  
Both flying ants and termites have two sets of wings. However a termite's are both the same size compared to an ant who have one set larger than the other.
The important thing to note is that there is no such thing as a white ant. If you think you have spotted an insect which looks like a white ant in and around your house then you might have a termite problem on your hands.  
Termite Tips
Homeowners are encouraged to be aware and observant of evidence of termites in order to catch any brewing infestations. :
Annual Inspection by a state-licensed termite inspector will look for signs of previous and active infestations as well as conditions conducive for new infestations
Taking careful note of the evidence from an indoor termite swarm (such as broken termite wings near window sills or doorways) can be useful in determining where the infestation may be lurking.
As in the case of older homes, knowing the history of the home, including previous termite problems, is helpful in keeping a professional termite inspection top of mind.
Any additional structure built onto the house requires special attention. Termites can use the gaps and spaces in between concrete pads to travel and set up their colonies.
Mud tunnels found on the exterior walls of the home are also a good indication that an infestation is nearby.