Tips for Working with Drywall
We've hung and patched and primed and finished our fair share of drywall. Check out this compilation of tips for working with drywall to make your next build or repair easier.
Use Setting Compound for Big Holes
It's fine to fill screw holes and other small wall dings with patching compound, but for dime-size and larger drywall repairs, and for holes that are deep, it's best to use a joint compound that sets up by a chemical reaction. These are available in powder form with setting times ranging from five to 90 minutes. The reaction starts when you mix in the water, and the compound hardens in the specified time. The five-minute version is nice because you can buy the powder in a convenient 5-lb. box, and the compound hardens quickly, so you can apply another coat right away. Remember, setting-type compounds are harder to sand than regular patching materials, so make sure to strike them off flush to the surface when you fill the hole. You'll find setting-type compounds wherever drywall taping supplies are sold.
Make a Dent for the Patching Compound
When you remove a nail, drywall anchor or picture hanger, there is usually a little ridge of old paint or drywall sticking out that's hard to cover with patching material. The solution is to make a dent over the hole, and then fill the dent. Most good-quality putty knives have a rounded hard plastic or brass end on the handle that works perfectly for making the dent. The rounded end of a screwdriver handle or the handle of a utility knife will also work. Press the handle against the hole and twist it slightly while applying pressure to dent the surface, or if you have good aim, use your denting tool like a hammer.
Cover Cracks with Repair Spray
Stress cracks usually show up around window and door openings. The cracks are the result of framing movement and are hard to fix permanently. But using spray-on crack repair is a good way to at least extend the life of your repair. The spray forms a flexible membrane over the crack that can stretch and relax as the building moves.
Rent a Drywall Lift for Ceiling Work
If you have to drywall a ceiling, don't hesitate to rent a lift. It's well worth the daily rental fee and is by far the best way to get a ceiling up without back strain.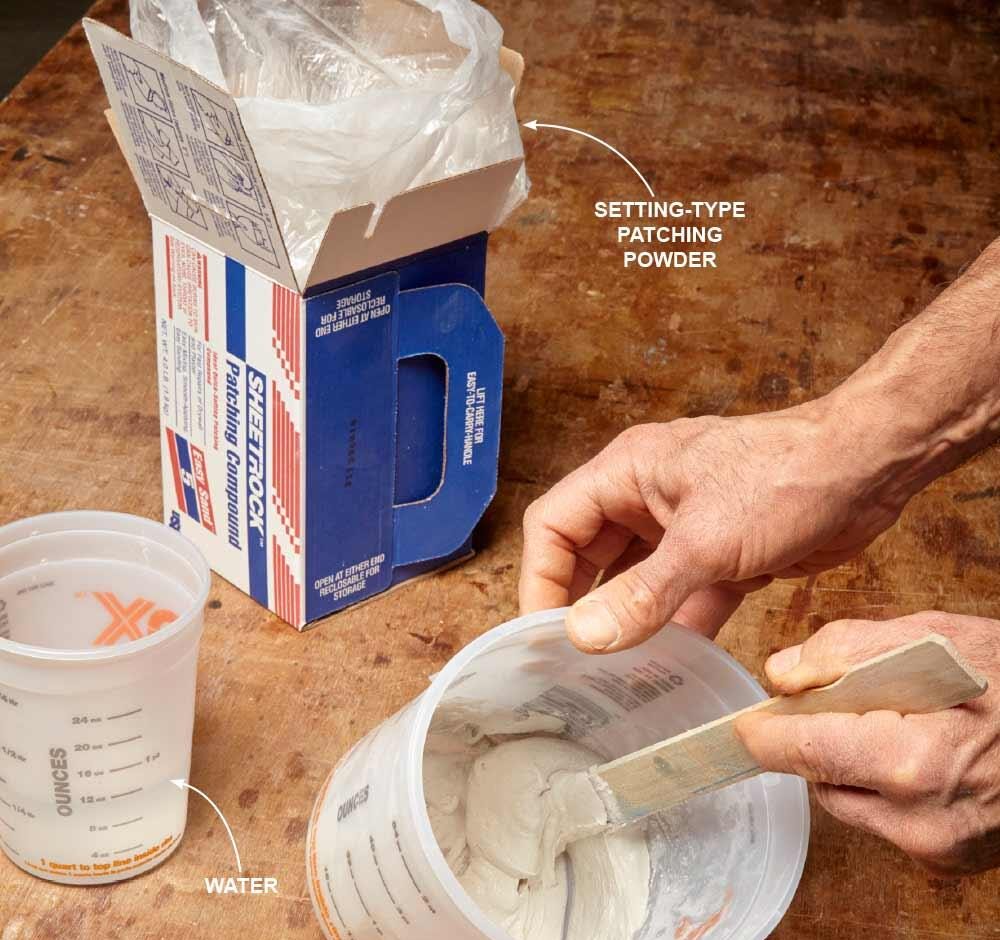 Choosing the Best Type of Drywall Compound
Drywall mud, also called joint compound, is a gypsum-based paste used to finish drywall joints and corners in new drywall installations. It's also handy for repairing cracks and holes in existing drywall and plaster surfaces. Drywall mud comes in four basic types, and each has its advantages and disadvantages. You may choose one type for your project or use a combination of compounds for the desired results
All-Purpose Compound: Best All-Around Drywall Mud
All-purpose compound is a pre-mixed mud sold in buckets and boxes. It can be used for all phases of drywall finishing: embedding joint tape and filler and finish coats, as well as for texturing and skim-coating. Because it is lightweight and has a slow drying time, it's very easy to work with and is the preferred option for DIYers for coating the first three layers over drywall joints. However, an all-purpose compound is not as strong as other types, such as topping compound.
Topping Compound: Best Mud for Final Coats
Topping compound is the ideal mud to use after the first two coats of taping compound have been applied to a taped drywall joint. Topping compound is a low-shrinking compound that goes on smoothly and offers a very strong bond. It is also highly workable. Topping compound typically is sold in dry powder that you mix with water. This does make it less convenient than premixed compound, but it allows you to mix just as much as you need; you can save the rest of the dry powder for future use.
Taping Compound: Best for Applying Tape and Covering Plaster Cracks
True to its name, a taping compound is ideal for embedding joint tape for the first phase of finishing drywall joints. Taping compound dries harder and is more difficult to sand than all-purpose and topping compounds. Taping compound is also the best option if you need to cover plaster cracks and when superior bonding and crack-resistance are required, such as around door and window openings (which tend to crack due to house settling). It is also the best mud option for laminating drywall panels in multi-layer partitions and ceilings.
Quick-Setting Compound: Best When Time Is Critical
Commonly called "hot mud," quick-setting compound is ideal when you need to finish a job quickly or when you want to apply multiple coats on the same day. Sometimes called simply "setting compound," this form is also useful for filling deep cracks and holes in drywall and plaster, where drying time can become an issue. If you are working in an area with high humidity, you might want to use this compound to ensure a proper drywall finish. It sets by chemical reaction, rather than simple evaporation of water, as is the case with other compounds. This means that quick-setting compound will set in damp conditions.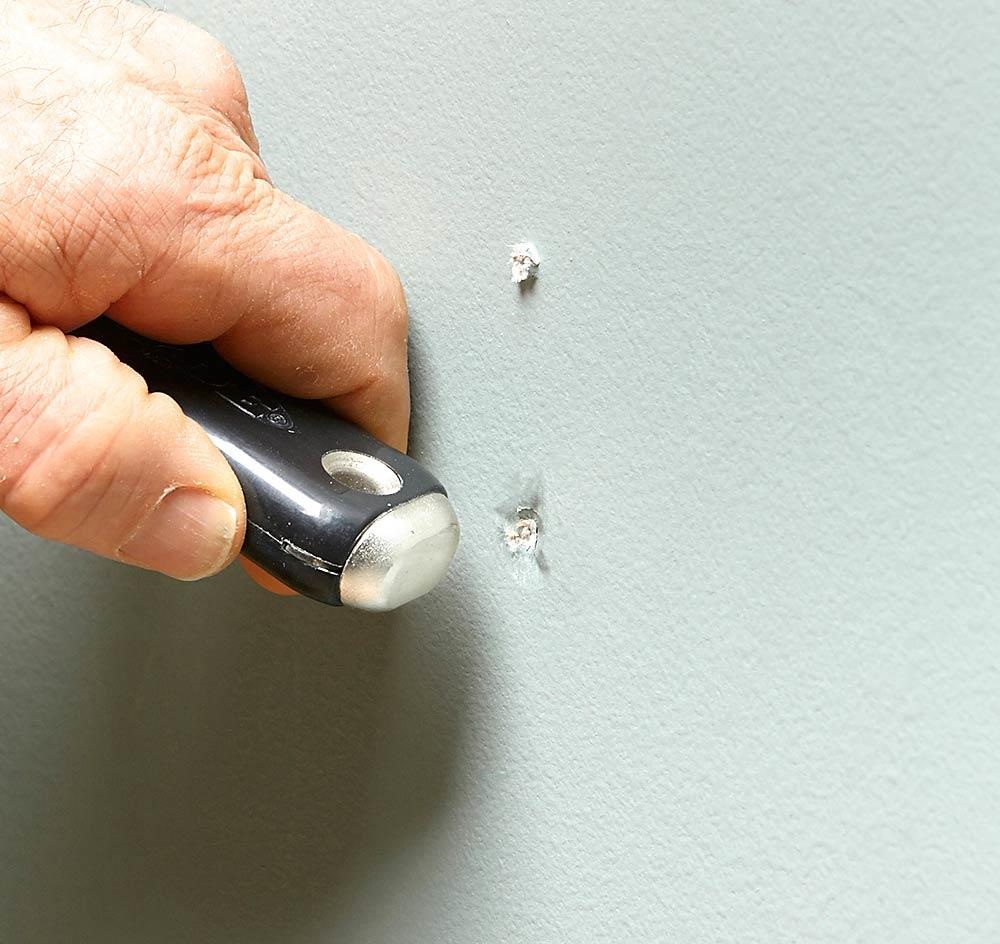 HOW TO REPAIR A HOLE IN DRYWALL
Drywall repair is a common home maintenance task that many homeowners can do themselves. The skill set, tools and techniques required for drywall repair depend on the size of the hole. If you can flip a fried egg, you can easily patch a small nick in your drywall, but it gets trickier as the holes get bigger. But don't worry; Mr. Handyman is here to help!
Drywall Repair Techniques
The size of the hole will determine what method of repair you'll use. You may not need all of these tools – before you purchase anything, reference the guidelines below to see what you'll need. You'll find the required materials listed with each step. Drywall tape is available in paper or mesh, select mesh if you have a choice. The tools in bold are required for each step, regardless of hole size.
HOW TO PATCH A SMALL HOLE (ANYTHING SMALLER THAN A NICKEL)
Small holes in drywall are simple to fix. Any hole larger than a nickel should be repaired with the instructions under Medium or Large hole. Use spackle or joint compound to fill the hole. If you're using joint compound, buy it pre-mixed for small DIY jobs. Spackle may shrink as it dries in larger holes and may require an extra application. Joint compound may run out or bulge as it sets and will require sanding and a second application.
HOW TO PATCH A MEDIUM HOLE (ANYTHING SMALLER THAN SIX INCHES)
For a professional finish follow the instructions under Large hole. This method requires finesse to feather the joint compound into the rest of the wall – if not done correctly, you will see a slight bulge in the wall. You must feather the repair area (gradually reduce the thickness outward) when applying the joint compound and in the sanding stage. Use a drywall patch that is slightly larger than the hole that needs to be repaired. You can purchase these at your local hardware store. Look for a kit, which will include everything you need.
HOW TO PATCH A LARGE HOLE (ANYTHING LARGER THAN SIX INCHES)
Take your time, and be careful not to nick any wires or plumbing during installation. Although this method requires more tools, the final result is more professional looking.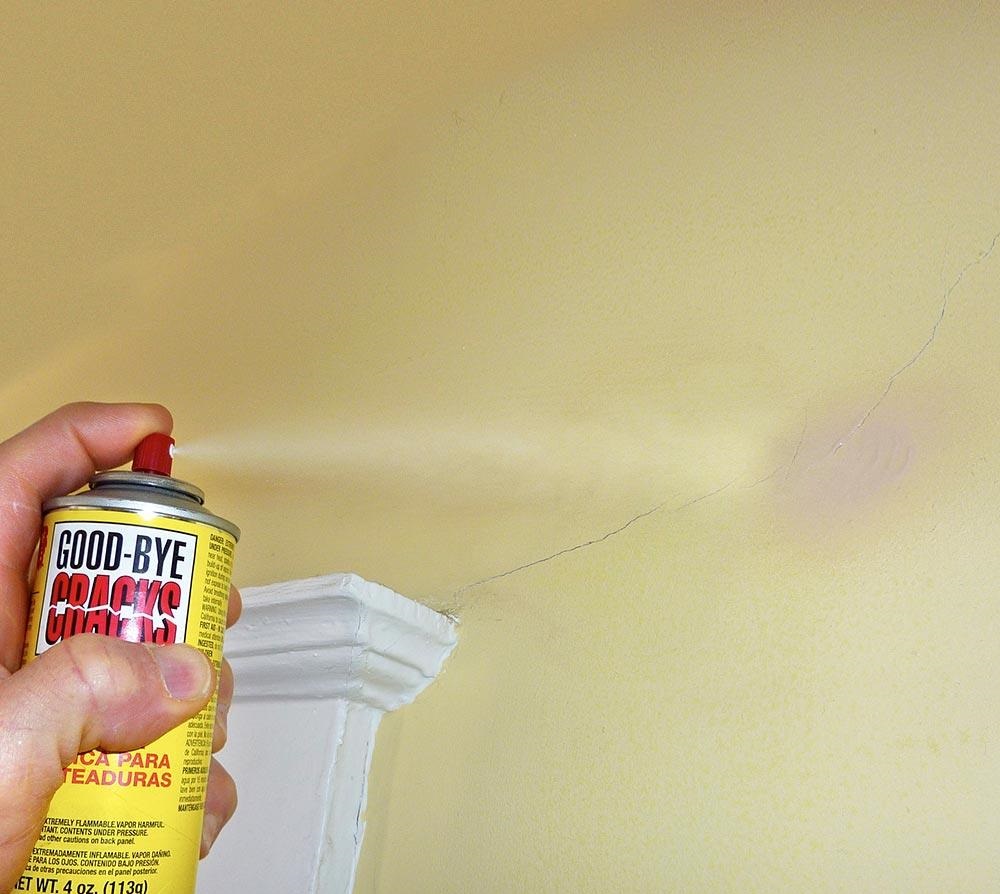 Everything You Need to Know About Drywall
Choosing the right drywall
To hang and finish drywall, you need drywall sheets, joint compound, tape, fasteners and edge treatments. That seems straight­forward, but when you're standing in the drywall aisle at the home center, the choices aren't so simple.
Is drywall fire-resistant?
"Type X" drywall is 5/8 in. thick and designed to slow the spread of fire. It is often required on garage walls and ceilings that adjoin living spaces, ceilings between living spaces inside the house, and under stairs.
Is drywall mold and moisture resistant?
Also called "greenboard", mold-and-mildew-resistant 1/2-in. drywall is a somewhat different animal. Manu­facturers use various methods to eliminate or treat the paper that covers the gypsum core. Getting rid of the organic paper food source was supposed to keep mold and mildew from growing. Builders used to install it in wet and damp locations, placing it behind tile in shower and bath enclosures. Those enclosures have already been or soon will be replaced as the greenboard fails.
Half-inch drywall
1/2-in. drywall is the best choice for most walls and some ceilings. There are standard and lightweight versions. Lightweight is stronger and weighs 25 percent less
3/8-in. and ¼-in. drywall
If you're doing repairs in a house that was built in the '50s or '60s, you may very well have 3/8-in. drywall. You'll want to match that thickness to patch an existing wall. Measure the existing drywall or take off a switch plate cover to find out.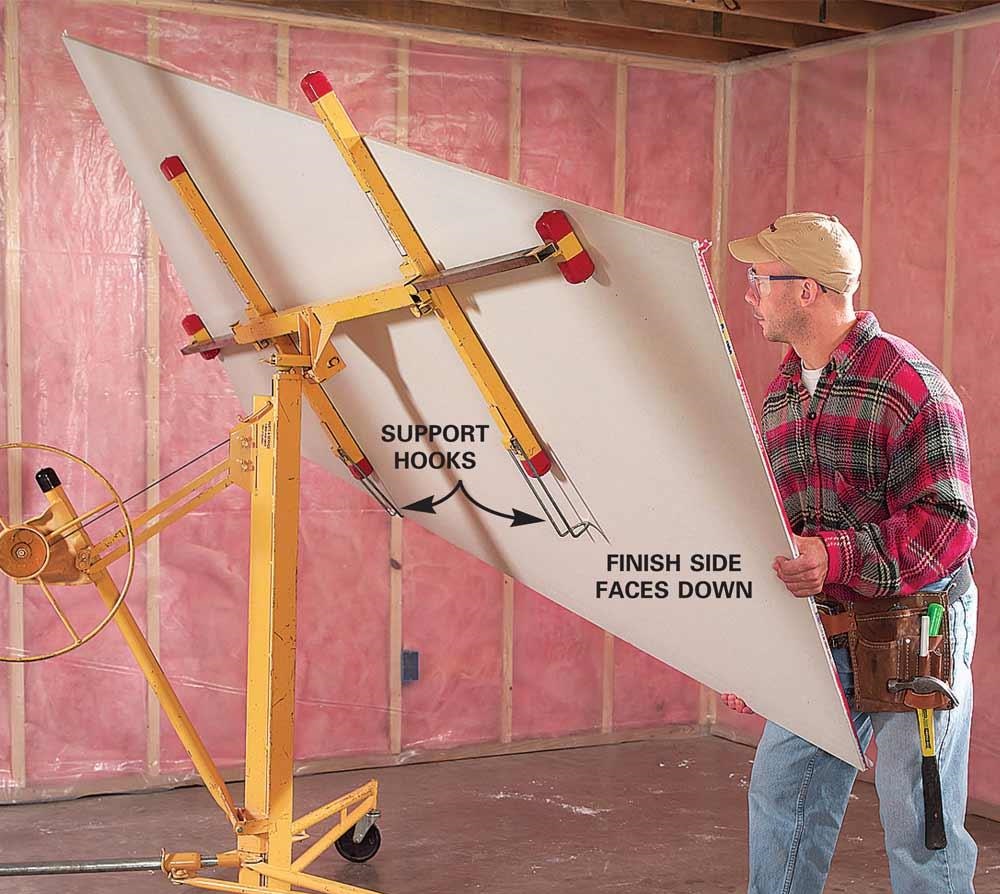 Tips For Hiring a Drywall Contractor
Like painting, drywalling is a very labor-intensive technique. In addition the drywall installer and taper has to be skilled because any imperfections will be picked up long after the painters have left. This is why a great emphasis should be placed on hiring the right drywall contractor for the job.
Drywalling is actually two separate jobs. The first part is the sheetrock installation which entails cutting, shaping, putting the panels into place and then fastening them. The second part includes taping the seams and then sealing both these and the screw heads with drywall compound. This latter process revolves around coating and sanding these surfaces until the walls and corners are smooth and you can't tell where one sheet begins and the other ends.
Preparation
If you take a look at a finished wall in any home it looks like a seamless flow of color which is only interrupted by the corners. And these looked like they have been hewed from a single block with a precision saw blade. Only your previous knowledge of building will tell you differently. However, the drywall job is only as good as the framework to which it is fastened.
Hiring the Drywall Contractor
As nothing is more infuriating to a homeowner than to see bulges and rifts on a finished wall you can't hire just anyone to drywall your home. There are ways to find out the ones who will do the best job. A drywalling company can cost in the realm of $25 to $45 per hour per person for sheetrock installation and drywall taping so they are not cheap
Finding a Contractor
This can be accomplished through a variety of places like the internet, home building stores and word-of-mouth. Usually home building places are good because they know the credit history of all the contractors and can give you an idea of who is trustworthy. Web sites like HandyAmerican.com can provide you with detailed information about contractors rated and reviewed by your neighbors.