Garbage Disposal Buying Guide
A garbage disposal helps reduce landfill waste and keeps your home smelling fresh in between trash days. But what are all the available options? We'll show you how to pick the best garbage disposal for your kitchen.
Garbage disposals come in two feed types: batch feed and continuous feed.
Batch feed disposals can only be turned on by putting a special magnetic stopper in place. These models prevent objects from accidentally falling into the disposal when in use. With this type of model, you can insert food waste in batches and run it all at one time. Batch feed garbage disposals are a good choice for locations where adding an electrical switch isn't viable.
Tip
Most sinks are compatible with a garbage disposal. If you're adding a new disposal as part of a complete kitchen sink replacement, check the manufacturer's specifications before purchasing. Some bar sinks have drains that are too small and may not be compatible.
What Horsepower Garbage Disposal Do I Need?
Garbage disposal motors come in varying horsepower (HP) ratings, anywhere from 1/3 HP to 1 HP or even higher. If you plan to use your disposal often or have a large household, opt for a model with more power
Tip
Garbage disposals with more horsepower often operate more quietly and are less likely to jam than standard or basic disposers with lower horsepower.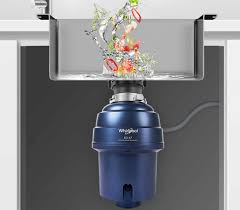 How to Determine the Right Size Garbage Disposal
Selecting the right sized garbage disposal for your home is an important decision. With so many choices, you may feel overwhelmed at first, but it's not as difficult as you might think.
Purchasing a garbage disposal too small for your household can lead to drain clogs and jams, leaving you annoyed and frustrated. But buying one that's too large, can mean you spent more money than necessary. This article will show you exactly what size garbage disposal to purchase.
How Much Horsepower Do I Need?
Garbage disposals measure their grinding strength in horsepower. When the motor has more horsepower (hp), the disposal will be more powerful. In other words, a 3/4 hp motor will have more grinding power than a 1/2 hp motor.
Household Size
One method of determining the correct-sized horsepower, is to factor your household size into the equation.
1/3 Horsepower
The starting point for garbage disposal motors is 1/3 horsepower. If you'll only be grinding soft foods, such as vegetables, live in a studio apartment, or you're on a very tight budget, a 1/3 hp may be a decent fit.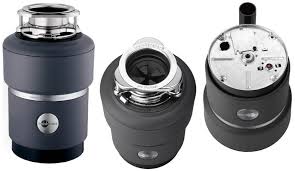 What Size Garbage Disposal Do I Need?
Whether you are replacing an existing unit or installing a new one, purchasing a garbage disposal is always plagued by the question, "What size do I need???". The garbage disposal offers an excellent alternative to placing more waste in landfills, and it is environmentally responsible. Moreover, it reduces the amount of greenhouse gases released into the environment (from decomposing food). However, for all of its benefits, this is one scenario where buying bigger does not always equate to buying better.
Determining Space Constraints
The first thing you need to do is break out your handy tape measure and measure how much space is available underneath your sink. Don't forget to measure length, height, and width. Physical dimensions are important because a garbage disposal can consume quite a bit of physical space. Generally, the more power a garbage disposal is, the larger dimensions it has. If storage space is at a premium in your apartment or home and you need the space underneath your sink, then you will more than likely need to purchase a less powerful unit.
How Many People Live in Your Home?
In the world of garbage disposals, size is determined by power. To determine what size of garbage disposal you need, you must first calculate how much grinding power your household requires. The main question you need to ask yourself is "How many people are living in my household?" Simple enough, right?
The Different Types of Motors
A 1/3rd HP motor is the weakest motor available on the market, but these models also tend to be the most affordable, which is why they are so popular. They are ideal for studio and one bedroom apartments.
A ½ HP motors is ideal for apartments, condominiums, and small homes. It will work well in any environment where it receives light use. Although tougher than 1/3rd HP motors, it must still be treated gently.
The ¾ HP motor is the most popular option among consumers. It is the ideal size for most single family homes and can a wider variety of "hard" foods, like hard vegetables and small bones.
A 1 HP motor is what you want if you live in a large household or have a kitchen that receives a lot of heavy use. Because it is much more powerful than its cousins, it is also a lot more forgiving about what is placed inside of it. It is also good for smaller places of business.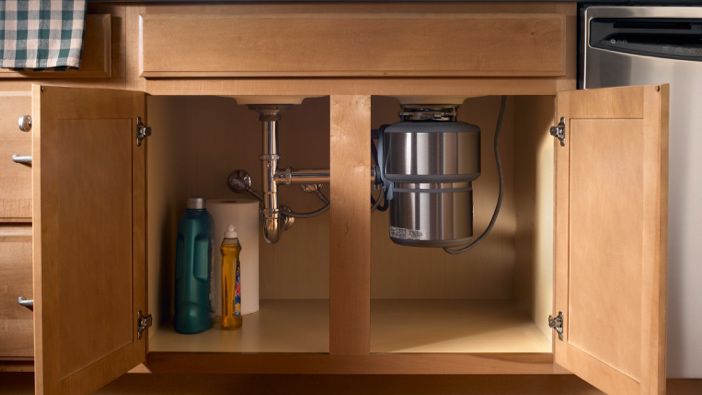 How to Buy a Garbage Disposal: A Buyers Guide
If you're in the market to buy a garbage disposal, you probably have a few questions. Most homes today come with a disposal already in place, but that's not the case for many older homes.
Whether you need to replace an existing garbage disposal or install one for the first time, this buyers guide will help you sort thru all the sales hype so you can find the right one to meet your needs. You'll have the knowledge to confidently start your shopping experience, and in fact, you may even know more than the sales person!
Garbage disposals are a wonderful convenience. Some municipalities encourage the use of garbage disposals because of the potential health benefits they offer. This is largely because they can help prevent the spread of disease.
When food is ground up and sent down the drain, it'll decompose faster than when its sent to the landfill. Making garbage disposals environmentally friendly, and justifying the necessity of using a bit more electricity and water.
What's My Budget?
Before you start shopping, it's always a good idea to have a budget in mind. When you start learning about all the bells and whistles, it's easy to purchase a garbage disposal with more features than you need, and thus, spend a lot more money than necessary.
Best Garbage Disposals
Thousands of happy owners have made the InSinkErator Evolution Compact garbage disposal a best-seller. This 3/4-horsepower unit has a 34.6-ounce grind chamber with stainless steel grind components, and reviewers say it's the perfect size to handle food waste from a large, hungry family. This model is a continuous-feed disposal, so it can handle a constant stream of food, too.
Experts give this InSinkErator very good marks for speed, fineness of grind, and ability to cut through tough vegetable scraps. It gets slightly lower marks for noise, but most owners say it's not too loud thanks to SoundSeal technology with sound insulation, an anti-vibration sink mount, and an anti-vibration tailpipe. Several owners say it was easy enough to install without a professional and has plenty of power for all kinds of food waste. A few note that the rubber baffle means their sink drains too slowly, and some say they've had issues with leaks. Fortunately, this model is backed by a four-year in-home warranty, so if something goes wrong, service agents will come to you.
Another very popular garbage disposal, the Waste King Legend is beloved for its sturdy build and easy installation. Like the InSinkErator, it's a 3/4-horsepower unit with stainless-steel grinders that can stand the test of time, and because it's a continuous-feed model, users can keep it running as they're adding food waste—convenient for most families.
Features on the Waste King include a front-mounted reset button, a removable splash guard, and sound insulation meant to reduce noise during operation. Most reviewers say the noise is typical for a garbage disposal, though some people complain of a loud click when it's first turned on. However, almost all are happy with the motor's power, saying the blades blow through lots of food waste without jamming.
They also say it's fairly easy to install thanks to an EZ Mount system that includes necessary hardware. It's backed by an impressive 10-year in-home mechanical warranty that means repairs are done in-home, and there is a lifetime warranty protecting against corrosion.