THINGS TO CONSIDER WHEN BUYING LAMINATE FLOORING
If you're considering updating the flooring in your home, you have a lot of options! You can put in carpet, tile, hardwood, laminate, or just stain the concrete. A good, durable yet affordable option is laminate flooring. Laminate flooring has come a long way from that lovely orangish pattern everyone had in the 80s. Modern laminate floors can actually imitate the surface that they look like!
Board thickness
The thicker the laminate, the more realistic it looks. Thicker laminate is also much more durable. At a minimum, you want it to be 8mm thick. A good, high quality flooring will be anywhere between 8 and 12mm thick. You definitely don't want a paper thin flooring, as it will wear away quickly and it will be much harder on your feet
Atmosphere of the room
What do you want to accomplish with your new flooring? Do you want the room to feel bigger? If so, aim for laminate with wide planks or light colors to brighten up the space and make it feel larger. Conversely – dark, dense patterns will make the room more cozy.
Foot traffic
Are you having the new laminate installed in a very high foot traffic area? Is it a place where children and pets will enter – possibly tracking in dirt? Consider the footwear of the people moving through the room, as well as the location in the home. And keep in mind that while dark-colored laminates will show less dirt, pet hair stands out against dark floors. A nice wood laminate would balance both of these issues nicely. A textured stone laminate is also a great option.
Attached rooms
When you're only replacing the flooring in one or two rooms, take a look at the surrounding flooring. You don't want to choose a laminate that clashes against your existing floors. Pick a color that matches or compliments the attached rooms.

WATERPROOF LAMINATE FLOORING BUYING GUIDE
Good news, the affordable laminate floors you love now feature waterproof capabilities! But before you deck out your home in waterproof laminate flooring, it's important to understand how this feature works. Keep reading to learn what you're getting with waterproof laminate flooring and to find the best product for your application.
We get it – you love the idea of putting laminate flooring in your home. You can't stop thinking about how gorgeous the dark espresso color looked in your sister-in-law's living room, somehow scratch-free even with her dog's clattering claws running all over it.
But your kids aren't that pristine. Maybe you even have a track record of spilling. Juice boxes, milk cartons, dishwater – you're tired of seeing the results of those disasters on your existing floors. Yet, you know that laminate is not known for its water-resistant properties, so what do you do?
That's right, waterproof and water-resistant laminate products are hitting the market, making this traditional wood-look floor even more irresistible. Now you can install this affordable flooring in more rooms of the home – like the kitchen or bathroom – with confidence that it will withstand the mess of the everyday chaos.
What is Waterproof Laminate Flooring?
Laminate flooring is a type of synthetic floor that first made a splash on the flooring market in the 1970s as the first man-made alternative to natural wood. This floor quickly grew more popular as manufacturers created increasingly realistic looks that could easily pass for real hardwood.
EXPANSION JOINTS IN LAMINATE FLOORING
Laminate flooring consists to about 90% of wood. Being a natural organic material, wood is always in motion. It's a common saying that "wood works". What this means is the wood expands or contracts (or grows and shrinks) in response to changing temperatures and humidity. So the same thing applies to laminate flooring. A metre of laminate flooring can undergo dimensional fluctuations of about a millimetre. This is what makes it so important to leave a gap of 10mm where the panels abut walls, door frames, pipes and so forth. If this isn't done, the material can suffer damage as a result of buckling, warping and so on. The tongue-and-groove joints can also suffer, and all this may void the terms of the warranty.
Extra Expansion Joints: Absolutely Essential in Large Rooms
The gap around the edges of the floor, which are camouflaged by skirting boards, doesn't allow enough play in large rooms. If a room is wider than 8 metres and/or longer than 12 metres, one or more additional expansion joints are needed in the middle.
How to Create and Cover Expansion Joints
To create an expansion joint in the middle of the floor, leave a gap between two adjacent panels instead of clicking them together as usual. So-called "transition profiles" can be obtained in DIY markets and specialised supply stores for covering these gaps. These are appropriately sized to visually disguise them. It's a good idea to inquire about the kinds of profiles that are available before installing your laminate floor.
Nowadays you can take advantage of a huge range of transition profiles with different surfaces and in various colours to ensure that they perfectly match the décor of your laminate floor. Depending on the profile, the distance between the double-rail in the middle and the panel on each side of it should be at least 10mm. So if the rails are 5mm apart, the expansion joint will have a total width of 25mm. Spacers of the right size also come in very handy. After inserting a gap with a profile, you continue laying the laminate panels like at the start, i.e. beginning with a "first row".
We recommend that you take the same approach when a laminate floor extends across more than one room. At the transition between two adjacent rooms, you face essentially the same situation as before. Transition profiles should also be inserted at door frames and where laminate meets another kind of floor covering.
So Cheap & Easy! Homemade Cleaner For Laminate Flooring
We recently had gorgeous laminate installed in our living room and I just had to take the opportunity to ask the installer what he recommended for washing it.
Although it's much easier to care for than real wood flooring and I've had it for years in other parts of the house, I want to take extra care to maintain the high gloss that this one has (it would be a shame for it to dull over time or be plagued with streaks from washing).
Directions:
Regularly use a soft brush attachment on the vacuum or a swiffer style tool for picking up dirt and hair. Sweep or vacuum in the direction that the pieces are laid so that you pick up all the crud between the grooves instead of trapping it (especially if it's mock-hardwood style that has the grooves between each "plank").
Mix a couple quick squirts of gentle liquid dish detergent in a pail of warm water. Wring out the mop well so there won't be any water dripping then damp mop the surface. No special cleaner/fluid required!
My sister-in-law has this tried and true recipe that she finds will give a streak-free result. Is it better than the above? Well the vinegar does help cut the streaking and adds a little extra muscle.
Here's The Recipe:
1/2 cup of vinegar
1 to 2 squirts of liquid dish detergent
Bucketful of warm water (about a gallon)
Did You Know:
Many manufacturers require that only their brand of cleaners are used or the warranty on the flooring is voided. On one hand I understand it (For example: if bleach was used to hose things down–should you really be eligible for all new product under the warranty?), but on the other hand–total ripoff considering there are suitable solutions that are cheap and effective (you're locked into buying their product for the lifetime of the warranty–which can be up to 30 or 50 years for some brands).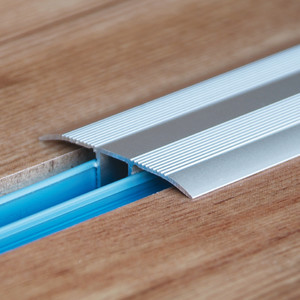 LIVE BETTER WITH LAMINATE
Laminate flooring from Logoclic proves its worth in many ways
Whether for your bedroom, living room or even for your bathroom, laminate flooring from Logoclic is the ideal foundation for your home! you will find a comprehensive selection of laminate flooring in differing styles, from real wood to tile in appearance. And all of laminate flooring has these things in common: high durability, ease of cleaning and a high degree of individuality, all coming together to create a pleasant environment in your home
Here are some of the major advantages of laminate flooring:
Robust: laminate offers high strength and is scratch, dent and wear resistant.
Natural: The natural look and feel of laminate flooring will give your living room the ambience you desire.
Straightforward: From installation – thanks to the simple click-system – to maintenance, laminate flooring is easy.
Heat resistant: Laminate flooring from is fire resistant.
Hypoallergenic: Laminate offers no place for dust and dust mites to hide, so this type of flooring is ideal for allergy sufferers.
Colourfast: laminate is UV resistant – sunlight causes no discolouration.
Guaranteed: offers a full 30-year warranty on your laminate flooring!
low price and high quality
Laminate flooring from is environmentally friendly and sustainable. This type of laminate is made from 90 percent waste wood, which Logoclic sources from forest preservation and maintenance projects to ensure a low impact on the environment. Nature even plays an important role in the design of these laminate products.
Feel good about Laminate – from insulation to baseboards
not only offers a comprehensive range of laminate flooring, but also any accessories that you might need for the installation and maintenance of laminate flooring. Find out more about the best underlay for your project, the correct cleaning agent for your flooring, and which height profiles and baseboards best suit your needs.
Do you have questions about laminate?
What do I do with surface scratches? How do I clean the laminate? Which underlay do I need? What do the different wear classifications mean? For all of these questions and many more