Tips To Choose A Trusted Home Renovation Contractor
Are you thinking about renovating your home? If yes, you need a right renovation contractor who can understand your vision and turn your ideas into reality. Choosing a right professional who can coordinate with you throughout the renovation process is a challenging affair. While a careful selection can help you create a space of your dreams, a wrong selection can ruin all your ideas and expectations. Following are the 5 tips that will you choose a trusted home renovation contractor:
Research: Research is the key when it comes to choosing a right renovation contractor for your home. Ask for a free quotation from different contractors and see what they are offering and the overall cost of the project. Then select the one that meets your budget. At the same time, make sure that the contractor is experienced and skilled enough to handle the entire process. He must be able to give feedbacks and suggestions from time to time and discuss about your requirements too. Ask your friends or family too about an experienced contractor if they've ever renovated their home.
Plan your budget: If you will not plan a budget beforehand, you will feel lost during the hiring process. Different contractors will have different offerings. If you haven't set a reasonable budget for your home, you won't be able to find a right fit for the job. Setting a budget will also help you negotiate on the overall cost of project your contractor has told you.
Check for expertise: Depending on the expertise and the experience of the contractor, renovation can take a few days, weeks or even months to complete. So you would never want to hand over your project to an inexperienced renovation company who has handled just 2-3 projects in the past. The contractor you choose must be licensed and has a good portfolio of successful home renovation projects in the past.
Ask for estimated completion time: Choosing a contractor only on the basis of price quote is not a wise decision. You should also know what completion time they are offering with that quote. Even if one contractor is charging more than the other but offering less completion time, it would be worth your money if you want the work to be completed at soon as possible. Obviously, you would be looking for someone who can hand over the renovated home to you so you can start your routine life normally as fast as possible. Hence, before entering into a contract, read and understand all the terms and conditions carefully.
Warranties and guarantees: A good contractor will always give you surety of his good quality work. So find out if your contractor is giving you any warranty of certain materials he has used during the renovation or not. Bad materials and products used during the refurbishing can cost you a lot in the future. So make sure that your renovation contractor is covering all these.
Hope, these tips will help you get a renovation contractor who turns your boring space into a wonderland of your dreams!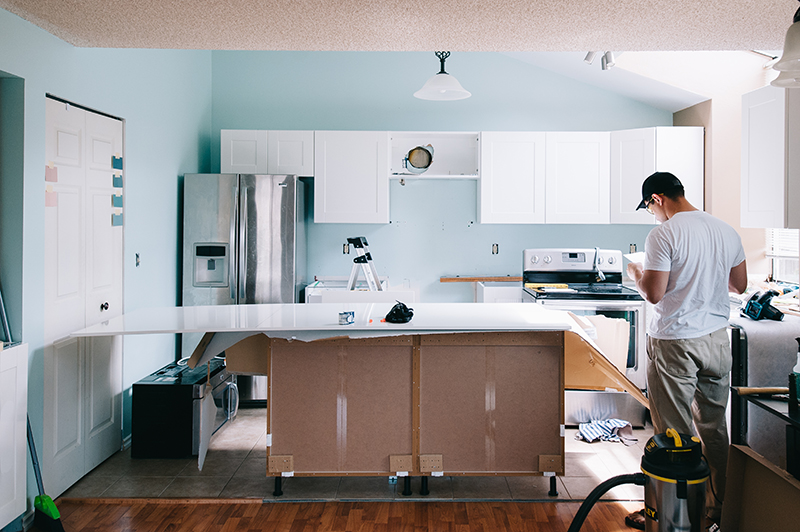 Things You Must Do Before Renovating Your House—or Else
Renovating your house is an adventure, one that can easily go off the rails. There are a mind-boggling number of wrong turns homeowners can take, from going over budget, to hiring a shady contractor, to just realizing that the quartz counters or paint color they picked are so wrong—after the work is done.
So if you want to make sure your renovation turns out all right, it's essential you be prepared. Here are five things you should do before embarking on any major home improvement project to avoid a whole bunch of headaches and regrets.
Know what you like
Oh that part's easy, right? You want a totally new kitchen. But what exactly does that mean? You have to narrow down whether that's just cosmetic (e.g., new cupboards, counters, and appliances) or structural (e.g., reconfiguring your space or knocking down a wall).
Run the numbers
There's a reason we call it a "dream house": It might not exist in real life—at least within the parameters of our budget! So before you get too attached to single-slab counters or spendy light fixtures, take a stroll down the aisles of your local design center to start pricing materials and labor.
Do a reality check
You might be wildly off base on what's feasible in home renovation. For example, a project that might seem simple, such as adding a laundry room upstairs, can easily become a budget buster when you realize you have to configure complicated plumbing because of the location you chose. Having a consultation with an architect or a contractor can give you some insight into which projects will be workable—and which you might want to abandon before you even get started.
Vet your contractor
We're not talking about doing just a cursory audit of online reviews or references, although those are helpful. You have to do a full-blown check and get proof of the following:
Contractor's license
Certificate of insurance for general liability and workers' comp
Lien history
Bond number and certification
And remember, you are going to be spending a lot of time with your contractor, as well as parting with a lot of cash and potentially a good bit of your sanity over the duration of the renovation. Your contractor is soon to become an almost-roommate, so take the time to conduct in-person interviews to find both a personal and professional fit.
Time your renovation right
Renovation projects are notorious for running over schedule, often through no one's fault. Weather can delay projects; necessary materials can be on back order; subcontractors can get sick; tricky wiring can take longer than expected. It's wise to just expect there will be delays, so plan the renovation with ample time if you have a "due date," such as house guests coming or a special trip that will take you out of town.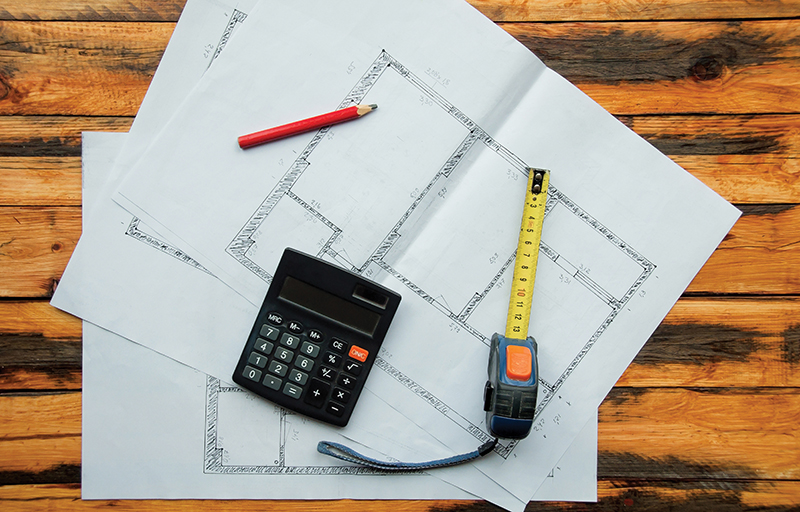 How to Renovate a House
A look at the major elements of a whole-house renovation will give you a sense of what's involved.
Design and Planning
A sketch on a cocktail napkin, full-blown architectural plans, or just a firm set of thoughts about how the remodel should progress. It is cheaper and less frustrating to correct mistakes before the remodel takes physical form. Ensure that you have funding for your renovation.
Roof, Foundation, Water Issues, Siding, Windows
Roof replacement or repair; foundation fix; stopping water infiltration; installing or repairing siding and windows. Large projects must be done first because
Structural Carpentry
Carpentry that is in support of other work such as drywall, new or moved walls, windows, doors, etc.
Moving walls.
Constructing new walls.
Adding beams to support a greater weight upstairs.
Punching in new doors (or removing existing doors).
Adding framing for new construction windows, or significantly enlarging the window openings.
HVAC Ductwork, Electrical, and Plumbing
Vital services that need to be installed when the walls and ceiling are open.
With the walls and ceiling open, it is time for the HVAC company to install ductwork for central heating and air conditioning.
Run new electrical and plumbing systems. Electrical and plumbing inspectors will visit at this time, too.
Windows
Installing new-construction or replacement windows.
Window installation, whether whole-house or partial, almost always plays into a home remodel project.
Insulation
Laying the insulation in the walls and ceiling.
Install insulation in the walls and attic.
Insulation goes fast, so make sure that your drywall company is ready to go soon after this.
Drywall
Closing up the walls with drywall: hanging it, mudding it, and sanding it.
A second inspection from the electrical inspector (and perhaps the plumbing inspector) will give you the go-ahead to close up the walls.
Drywallers hang sheets of drywall, apply drywall compound, and let the compound dry. After drying, they sand it smooth. Sometimes, they will repeat the process until they achieve a seamless surface.
Fine Carpentry
Carpentry that is not supportive: baseboards, molding, trim around windows and doors, built-in elements (bookcases, breakfast nooks, etc.).
Fine carpenters give your house that finished touch.
Interior Painting, Wallpaper, and Other Surface Finishes
Painting interior walls, hanging wallpaper, painting molding and trim, staining and sealing trim.
All of these detail-oriented surface finishes should be one of the last items you do indoors as this work can damage other work of yours.
Should you paint before installing or sanding your flooring or the reverse? This is debatable. Laying flooring first means that paint might get on the flooring. Painting first means that the floor sander may scuff your walls.
Flooring
Your final floor covering—laminate, solid hardwood, tile, engineered wood.
Installing the flooring as late as possible in the renovation process saves your flooring surface from significant damage.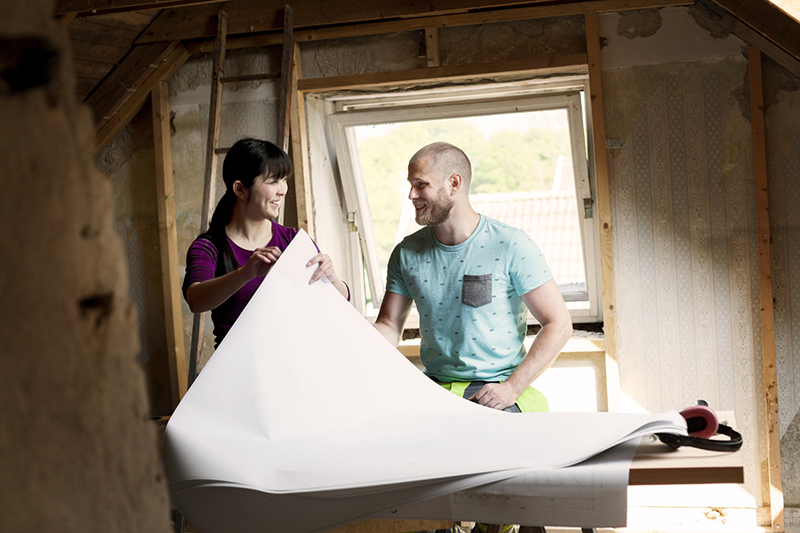 Where Should You Start First When Renovating a House?
You've decided to renovate your house but don't know where to begin. If you're renovating so you can stay in your home for a longer period of time without systems breaking down, your approach is different than if you're renovating to get a higher price when you eventually sell. Analyze your reasons, needs and how much money you have for the renovations before you put your plan into effect. In most markets a complete renovation only increases your value slightly, according to a report issued by the National Association of Homebuilders(NAHB).
Assess Your House
Hire a licensed home inspector to check your house from top to bottom. He'll climb into the attic to check for dampness, scour the basement looking for leaks, test the heating and air conditioning systems, examine the roof, the plumbing and electrical panels. Evaluate the results before deciding on a plan of action. Whole-house remodeling is down from its peak in the mid-2000s, according to the NAHB, while repairs increased.
Systems
If your heating and air conditioning unit is problematic, decide whether a full replacement or a temporary fix is in order, depending on your goals. Providing a comfortable environment is paramount to your enjoyment of your home. A faulty air conditioner promotes mold which is unhealthy for you and your family, and is expensive to remediate.
Plumbing
If you're going to upgrade your bathrooms, be sure your plumbing can tolerate increasing pressure and usage. Repairing leaky fixtures, damaged flooring and improper ventilation results in lower water bills. If they're not repaired and you're selling the house, the problems will be pointed out by the buyer's inspector. In a survey by the NAHB, bathroom remodeling jobs were the most common upgrades purchased in 2011.
Efficiency
Homeowners are guided by energy efficiency. The importance of downsizing and using energy efficient appliances is reflected in the Energy Star ratings attached to appliances today. Renovating a kitchen with granite, stainless steel, new cabinetry and flooring is the second most requested renovation project, the NAHB says. A new kitchen increases your home's value, and installing energy-efficient appliances attracts a buyer's eye.
Windows/Doors
A home renovation project that includes installing new windows and doors leads to less cost in running the house. Double glazed windows and solid doors are an expensive renovation but yield benefits, both for the homeowner and a potential buyer.
How to Set a Home Renovation Budget
Here are five key steps in planning your home remodeling project.
1. Estimate home renovation costs
As a general rule of thumb, you should spend no more on each room than the value of that room as a percentage of your overall house value. (Get an approximate value of your home to start with.)
For example, a kitchen generally accounts for 10 to 15 percent of the property value, so spend no more than this on kitchen renovation costs. If your home is worth $200,000, for example, you'll want to spend $30,000 or less.
2. Consider home remodeling loan options
3. Get home renovation quotes from contractors
Some contractors will give you an estimate based on what they think you want done, and work completed under these circumstances is almost guaranteed to cost more. You have to be very specific about what you want done, and spell it out in the contract — right down to the materials you'd like used.
4. Stick to the home remodeling plan
As the renovation moves along, you might be tempted to add on another "small" project or incorporate the newest design trend at the last minute. But know that every time you change your mind, there's a change order, and even minor changes can be costly. Strive to stick to the original agreement, if possible.
5. Account for hidden home renovation costs
Your home may look perfect on the outside, but there could be issues lurking beneath the surface. In fact, hidden imperfections are one of the reasons renovation projects end up costing more than you anticipated.