How To Choose The Best Outdoor Lighting For Your Home
Security and Safety
The first and most important goal of outdoor lighting is for safety and security. This is achieved by illuminating your front entrance, pathways, and stairs, as well as the darkest corners of your property. All of these areas should be considered when designing an effective lighting plan, as well as making sure your plan can be built upon as time, budget, and exterior space allow.
Choosing Your Style
Once the dream plan is done, the usual starting point would be the outdoor lanterns and path lighting to greet your guests. Choosing a look which complements the style of your home's façade and your existing door hardware is the most creative part of choosing your outdoor fixtures. Personally, I like to mix it up and have fun with my styles and colors, and make my own rules. For example, a stainless steel finish with an ornate design is unusual, and definitely sets apart your style from your neighbor's. It is easy to choose a style that suits you with the many outdoor lighting options and many combinations of colors and textures in stone and siding materials these days. If you like to keep it simple, many lights come in collections, where different types of fixtures all come with the same design and finish.
When selecting the lanterns for your exterior lighting there are many factors that need to be taken into consideration, to assure that the fixtures will meet your needs. Scale, mounting, and bulb types are all very important in the selection process. One of the biggest issues that gets overlooked is the placement of the junction box on the wall, which often interferes with the direction the fixture will hang. If hung incorrectly the fixture will not illuminate the surrounding area correctly and may even shine back into your windows
Type Of Light
I am often asked which bulb is the correct type to use in exterior fixtures. I do not have the perfect answer for that question. The bulb type is usually dictated by the fixture itself, but my preferences are LED (light-emitting diode), CFL (compact fluorescent lamp) and incandescent bulbs. LED lamps seem to be the direction that all manufacturers are leaning, and that it exciting because of the sleek designs and the energy savings that they offer.
About the Author
We have been active in the Design and Construction Industry since 1982 in the Portland metro area. The broad experience that she brings to Chown is used every day in helping her clients reach their dreams of the perfect room or project. In her spare time, uses her creative talents to make one of a kind jewelry pieces using materials that she collects or are given to her by the team of treasure hunters in her life. Other favorite pastimes are working in her flower beds which she refers to as "dirt therapy" and cooking up pretty amazing meals for family and friends.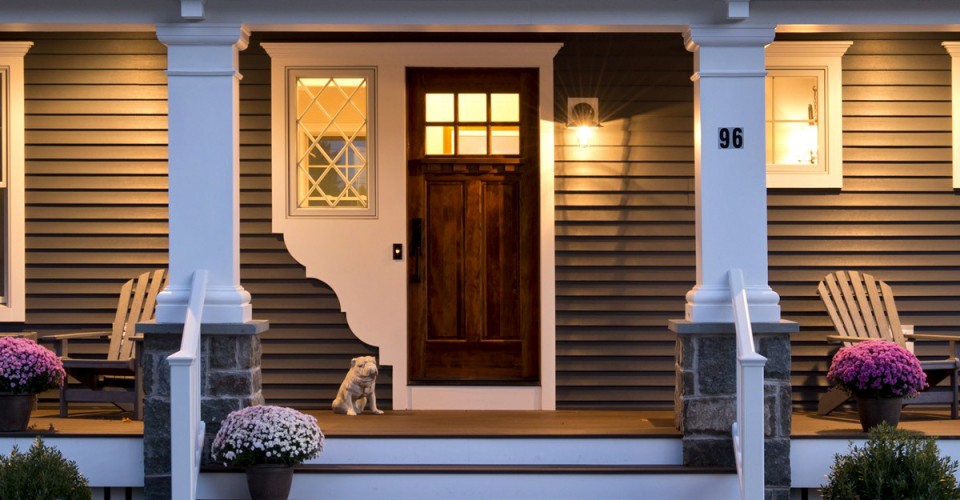 Outdoor Lighting Tips for Beginners
If you want to focus on the architecture of your home instead of your landscape, you can choose from a wide variety of lighting styles. The subtle scheme in this photo will create a moonlight effect after the sun goes down resulting in soft, inviting highlights as if moonbeams were lighting the property.
Creating an outdoor lighting design for your house and yard might not be at the top of your home improvement "to do" list but there are practical and aesthetic reasons for doing it, from increasing the security and safety of your property to providing additional curb appeal at night.
Getting Started
The first thing you need to consider is your current setup for exterior lighting. Do you have lighting fixtures already installed or the necessary outlets and/or connections for the job at hand? Many newly constructed homes in residential areas are often equipped with outdoor lighting sources on the left and right corners of the house. If you don't have a basic setup like this, you should hire an electrician to do it. If you have a home with a less conventional facade and architectural features that extend or recede from a standard straight line layout across the front, you might consider installing additional light sources to highlight these areas.
Picking Your Subject
Regardless of whether you are lighting your front or backyard, you need to decide what you want to highlight in your design. Is it your landscape, specific trees or shrubs, a fountain or maybe a courtyard area? In most cases, exterior lighting sources are as high as the eaves of houses or higher with the light shining down, but there are always exceptions to this. For example, Burks says, "If it's a newly installed landscape project and it's not a very mature landscape, you're probably only going to be able to go from the ground up. The problem with trying to light landscape for the first time is our brains are used to having the light shine down from the sun and the moon." If you are only interested in lighting something specific like a walkway, you may find that you can accomplish that effectively with ground lighting or a combination of high and low lights for the best results
Choices of Light
Your choices for exterior lighting are primarily going to be flood lights, spotlights or path lights and you might want to consider a combination of all three depending on how elaborate you want your lighting schema to be. Flood lights will cast a wide beam suitable for illuminating a large area but spot lights will disperse a narrower beam of light, usually less than 45 degrees wide. Path lights, of course, are most effective for lighting walkways and paths.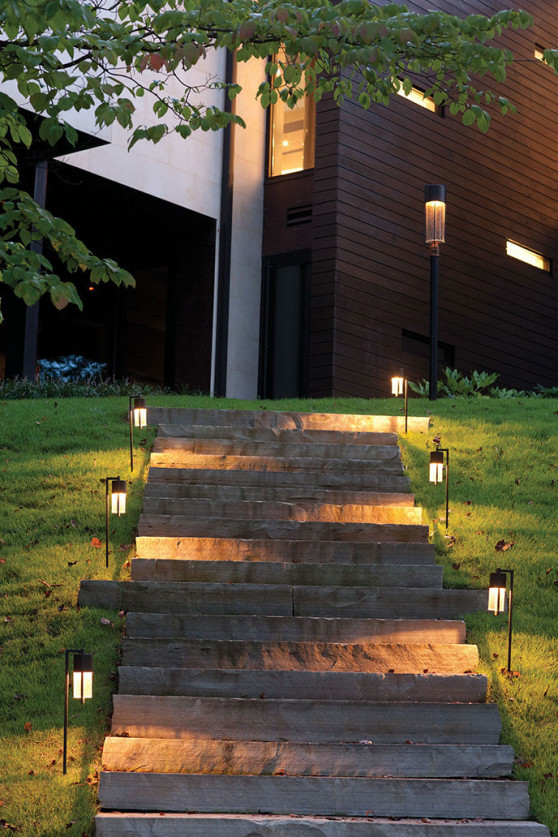 TIPS TO CHOOSE THE RIGHT TYPES OF OUTDOOR LIGHTING
A garden without outdoor lighting can never be used to the fullest extent, depriving you of great pleasure. Outdoor lighting has many benefits like improved security, enhanced aesthetics, and it adds to the curb appeal of your property. Outdoor lighting fixtures are available in a variety of styles and finishes, and these add to the style quotient of your home. Fixtures with quality waterproofing do not require shelter and can rough it out in any season. However, lights with minimal waterproofing can be used in semi-outdoor areas like covered patios and decks, etc.
Practical Aspects to Keep In View
You need to pay attention to certain aspects while choosing outdoor lights such as the IP rating, which is always mentioned on the packaging. This factor is vital because when you fit any lights outdoors, they need to be durable and waterproof. Let us see what IP (Ingress Protection) rating indicates. Look at the first and second digit. These digits tell you the levels of sealing effectiveness of the lights from intrusion – the first digit related to foreign bodies like dust, tools, etc. and the second digit to moisture.
Entrance Light Fittings
Entrance lights are the face of your house because they brighten the path to the front door of your home. The illumination they provide makes it easy for you to welcome visitors and identify callers at your door. Use 60W porch lights that complement the styling of your front door and exterior architecture.
Patio and Deck light fixtures
Do you use your outdoor area for dining and entertaining friends often? Then patio lights can make the place more usable. You can choose from a variety of light fittings to suit your style preferences. Install wall-mounted decorative lights, recessed spotlights for the ceiling area, or pendant glass lamps to create the perfect mood. Ensure that the lighting theme beautifies your furniture, and illuminates the outdoor area correctly, allowing you to use these spaces optimally.
Decorative Lights
Decorative lights bring your outdoors to life, add charm to the place, and create a warm and pleasant environment. Colourful or white lights, string lights, accent lights, and light curtains swaying in the breeze induce a cheerful and ethereal atmosphere. There is an amazing variety of outdoor lights to choose from so you can turn your yard into a comfortable and beautiful place. Illuminate particular features like trees, a fountain in the garden, or the path by using accent lights or uplighters.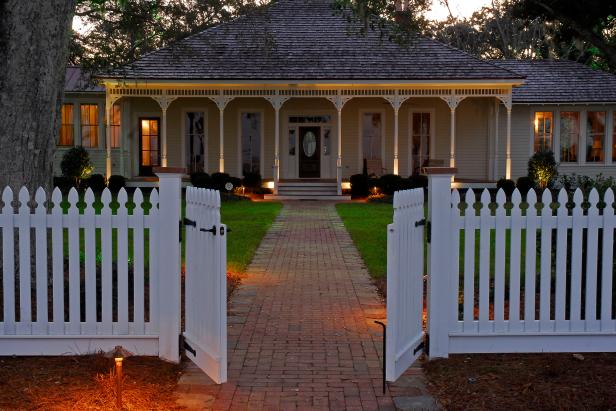 Buying guide: How to choose the right outdoor Christmas lights
One of the best things about Christmas is lighting up your house. It creates a warm, glowing welcome when you arrive home. And festive light displays always put people in a good mood! Outdoor Christmas lights can be confusing because there are so many types to choose from. So I've put together a handy buying guide to explain the different styles, bulbs and power options.
POWER SUPPLY AND BULBS
Make sure you buy lights that are marked for outdoor or external use. Indoor lights are not designed for outdoor use and could easily blow a fuse. Most modern outdoor lights use LED bulbs, which stands for light-emitting diode. They are very efficient and use less electricity than traditional incandescent bulbs, making them cheaper to power. They are also low-voltage and don't overheat, so they are safer for children.
There are two power options available: mains supply and battery-powered.
Mains supply lights plug into your electricity supply. If you choose this option, please make sure everything is safe! You will need to check that all sockets, cables and connections are fully waterproofed. The slightest bit of moisture in an electrical circuit can be extremely dangerous. Make sure to buy and fit proper socket covers.
STRING LIGHTS
String lights and fairy lights are one the most popular types of Christmas lights. They can be used in all sorts of ways. Hang them from your eaves, window frames and conservatory roof. Trail them along fences and paths or wrap them around tree trunks and other structures. You can also use short battery-powered versions to decorate wreaths and pile into jars and storm lanterns to decorate steps.
NOVELTY LIGHTS
The other type of Christmas lights come in novelty shapes and silhouettes. It's a great way to create a warm welcome to your home. Try one feature or a whole collection for a festive scene. Novelty lights can be freestanding or hanging. There are loads of possibilities, from simple shapes like trees, stars and baubles to characters like Santa and reindeer. They can have wire frames and there's even a trend for inflatables lit up from inside.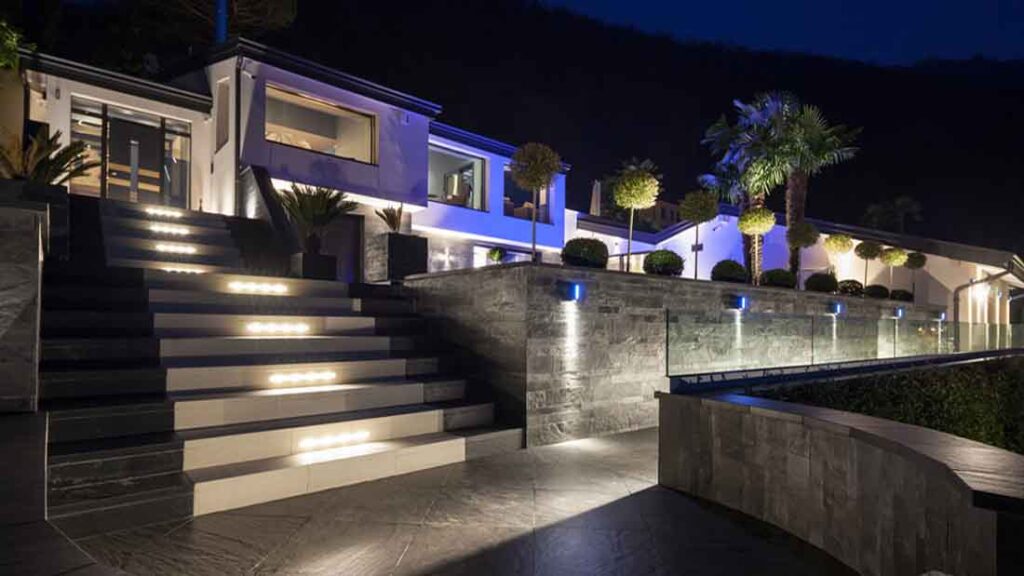 Select Outdoor Yard Lights for Security and Energy Savings
Many rural residences and farmsteads use yard lights to provide night security and to illuminate driveways and buildings after dark. Selecting the right light will produce the results you want while saving energy.
How much light?
Light intensity is measured in foot candles. One lumen of light energy falling on one square foot creates one foot candle. For general yard security and movement, a light intensity of one half to two foot candles is recommended. This light intensity can be created by 100 to 175 watts of lamp size mounted 25 feet above ground and serving no more than 8,000 square feet.
What type of light fixture?
Unshielded lamps send light in all directions. Even standard downward-facing fixtures can lose one third of their light to the sides. A full parabolic reflector fixture will direct the most light to the ground in your target area and allow desired light intensity with a smaller lamp.
What type of lamp?
Lamp efficiency is one factor to consider and is measured in lumens of light per watt of electric consumption, vary widely. Some lamps are slow to start or to reach full intensity.
Standard incandescent and halogen lamps produce only 15 to 20 lumens per watt, but come on almost instantly. These lamps are fairly short-lived, but do not suffer from frequent on-off cycles. They are best where use time is short and the lamp is easy to access to change bulbs.